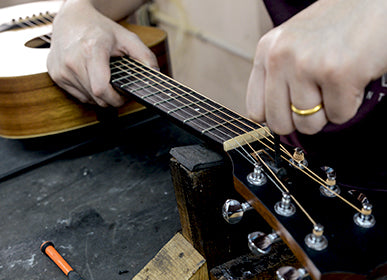 The Guitar Doctor
REFRESH Package
The Guitar Doctor (TGD) provides one of the finest restoration work, fretwork and setup for guitars and ukuleles in Singapore. Fully equipped workshop with state of the art PLEK machine and professionally acclaimed luthiers are ready to solve all your guitar and ukulele issues.
REFRESH package includes the following:

Change Strings to EXP16 (EX12 upcharge $5)
Clean Fingerboard and frets with Fret Butter
Clean Guitar Body with Wax
Check and Tighten Loose tuners
Check Fret Condition
Check Bridge Pin Condition
Check Nut Condition
Check Saddle Condition
Check String Slot Condition + Slot
Check for Loose Bracing
Check Body Geometry - Humidity Damage
Check Neck Angle
Check Setup
Restore Humidity Levels (Free for 3 days)
Adjust Truss Rod
Change Battery for Pickup
Nut Slotting and Saddle Sanding +$40
Drop-off Location

THE GUITAR SHOP
5 Coleman St., B1-30 Excelsior Shopping Centre, 179805
* This package excludes cleaning of metal hardware parts on the guitar nor heavy polishing / sractch removal. Contact us for a free consultation.

---