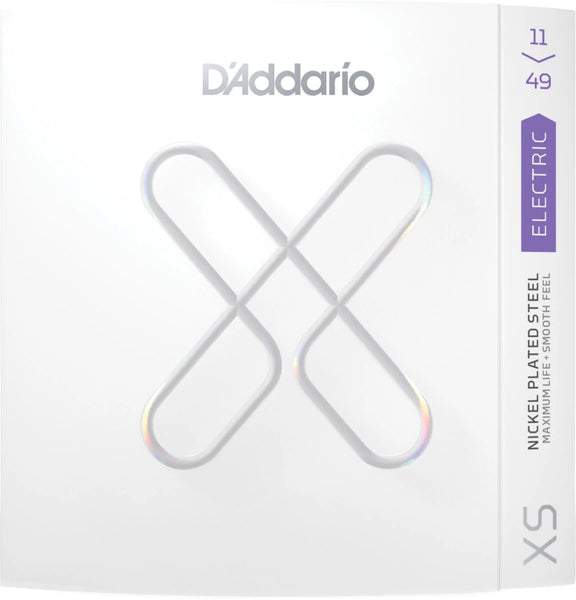 D'Addario
D'Addario XS 1149 NPS Electric
WH
AT IS XS?
XS
 s
trings feature an 
ultra-thin and durable film coating that completely 
protects the wound strings while the plain steel 
strings receive our 
proprietary XT treatment, so all the strings in the set are protected from 
life-killing 
corrosion an
d c
ontaminant b
uild-up.  


The coating is so thin that 
strings ring out the with the clarity and projection similar to an uncoated 
string. 

D'Addario's  NY Steel high-carbon cores in the wound strings and Fusion Twist-
technology on all plain steel strings ensures unmatched tuning stability and 
increased b
reak s
trength.

A
ll o
f 
this with strings that have a smooth feel 
and don't feel greasy or visibly fray like the leading film coated string.

WHICH INSTRUMENTS & STRING TYPE IS XS CURRENT
LY AVAILABLE FOR?
XS
 i
s currently available in Phosphor Bronze for 6 & 12-string Acoustic Guitar 
and Mandolin, along with Nickel Plated Steel for 6-string Electric Guitar.


HOW DOES XS COMPARE TO XT?
The X-Series is comprised of two distinct lines... XT utilizes a treated wrap 
wire, resulting in a natural feel, an
d 
XS
 u
tilizes a film coating that results in 
a smooth feel.  
Each string satisfies a particular need in the market. XT 
replaces our successful EXP line whil
e 
XS
 i
s targeted to the Elixir users, 
which up to this point have had no viable alternative.  
Additionally, there 
are distinct differences in string life - XT offers extended life (vs. uncoated 
strings) and 
XS
 delivers maximum life (the longest lasting coated strings 
on 
the market). These benefits are also reflected in the price...


WHAT IS THE CONSTRUCTION
OF XS ELECTRIC?  
XS Electric consists of NY Steel high-carbon plain steels and core wire, wrapped 
with premium NYXL Nickel Plated Steel giving players enhanced m
idrange bite 
and crunch, increased projection, consistent tuning stability and 
incomparable break strength. XS Electric provides higher output, rich 
harmonics and superior sustain.